SINGLE
Single: A maximum of eight petals in a single row, with an uninterrupted cluster of stamens.
Higo style single
SEMI DOUBLE
Semi-Double: Two or more rows of petals, with an uninterrupted cluster of stamens.
IRREGULAR SEMI DOUBLE
Irregular Semi-Double: A semi-double with an interrupted cluster of stamens.
FORMAL DOUBLE
Formal Double: Any number of petals, regularly disposed, tiered or imbricated, but no visible stamens.
INFORMAL DOUBLE
Informal Double (previously peony form): A double with any number of petals and petaloids. Stamens may or may not be visible.
ELEGANS FORM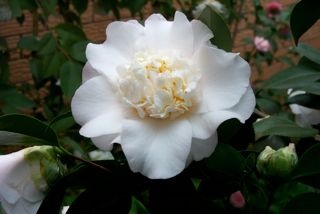 Elegans Form (previously anemone form): An informal double with  one or more rows of large outer petals lying flat or undulating; the centre a convex mass of intermingled petaloids and stamens.
Hybrid: Any camellia that is accepted as a cross between species.
Miniature: A small bloom of a normally larger variety is not acceptable.
CAMELLIA SIZES (in Australia)
Miniature – 70 mm or less
Small – larger than 70 mm to 90 mm
Medium – larger than 90 mm to 110 mm
Large – larger than 110 mm to 130 mm
Very Large – larger than 130 mm.
Use the size rings – a bloom should be able to fit through the appropriate circle.