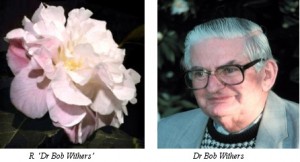 (February 9, 1923 – January 24, 2005)
Dr. Bob as he was known to most of us was a dedicated doctor and passionate horticulturalist. Dr Bob joined the Australian Camellia Research Society (ACRS) – (Victorian Branch) (now known as Camellias Victoria Inc.) in the early 1970s after being introduced as a person from the Rhododendron and Lilium Societies, who was showing an interest in camellias. After coming to meetings, he embraced camellias with a passion and went on to become Victorian Branch President, a National Councillor and was recently made a Fellow of the ACRS (now know as Camellias Australia Inc.)
Bob was interested in breeding and propagating camellias. Ern Kettle remembers an afternoon spent at the Olinda Rhododendron Gardens in the quarantine house grafting C. hybrid 'Cinnamon Cindy'. These scions had been sent by Bob's friend Dr Ackerman in America, and so new and much sought after scented camellias came to Australia. More recently, Bob attended grafting days almost weekly at Rhodo Glen Nursery with other members, to propagate many rare and unusual camellias. Bob loved reticulata camellias and he grew and bred some beautiful flowers. The one that had the greatest influence on the breeding of many other varieties is 'Suzanne Withers' because it was a colour break in the early reticulata hybrids with its pale pink and white bi-colouring and it has been such a great seed parent for many other new introductions. I have heard it described as the Mother Superior of retics. 'Lady Pamela' is perhaps his most sought after introduction, again because of its pale bi-colour and also beautiful form and strong substance and texture in its petals.
He was very proud when he managed to get a camellia included in a set of botanical stamps put out by Australia Post and he was doubly excited when his introduction 'Hari Withers' was chosen to represent camellias. He had a great love for all things camellia-including plants, books, stamps, pictures and photographs.
Bob was happy to talk to anyone who was interested in camellias. He would go to garden clubs and groups to lecture, shows to judge, he would write papers and photograph flowers.
He loved the national and international congresses when he was able to go, to meet new people and catch up on old friends. He corresponded prolifically with overseas growers and kept abreast of camellia news from around the world. He was a great source of knowledge and when we had people with blooms or plants to be named it was to Bob we turned.
Bob was the holder of the Camellia Species Collection of the Ornamental Plant Conservation Association of Australia and he was quite tenacious in his collection of any new species that became available.
It is pleasing to know that his species collection has gone to the Royal Botanic Gardens, Melbourne, where they will continue to be looked after as he would have wished.
Bob was the recipient of many awards but the most notable were the Order of Australia Medal he received in 1995, recognising his services to horticulture, an honorary Life Membership of the Royal Horticultural Society of Victoria, and a Fellow of the ACRS. He was awarded the Veitch Gold Memorial Medal by the Royal Horticultural Society, London, its highest award for non-British residents. He received the Merrillees Gold Medal for service to camellias in Victoria in 1986 and the national E. G Waterhouse Medal in 1991.
Camellias originated by Dr Bob Withers