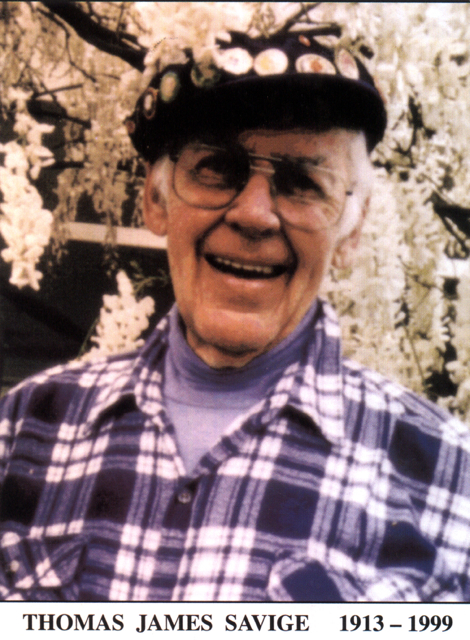 Thomas was born at Bonalbo, in the northern rivers district of New South Wales on 11th November 1913.  He grew up on a cattle farm at Thorpdale in Victoria. He studied engineering at the Royal Melbourne Institute of Technology, becoming an aircraft draughtsman. For two years he worked at Yeovil (England) for the Westlands Aircraft Company, returning to work at the Commonwealth Aircraft Corporation as chief draughtsman during World War 11. Tom's interest in horticulture, especially camellias, was aroused in 1946 while on an aircraft-buying visit to San Diego, USA for Trans-Australian Airlines. Returning to Melbourne, Tom (with wife Olive) began planting and raising camellias, becoming a member of the Australian and New Zealand Camellia Society in 1957. The New Zealand Camellia Society later honoured him with life membership.
Tom passed away in Albury on 19th December, 1999. For those who knew Tom were amazed by his tremendous knowledge of all aspects of his favourite plant – knowledge  which he was always so willing to pass on to those who shared his interest. His many talks about the meanings and origins of cultivar names will be remembered by our members for years to come. Many will remember Tom as they walk around their gardens and admire the plants he had supplied the scion and rootstock and then taught how to put the two together. Others will remember Tom for his involvement in the breeding of new cultivars and the splendid support he and Olive gave to local camellia shows.
Tom & Olive later moved to Wirlinga, near Albury NSW, where their large block of land was soon packed with hundreds of camellias of many species, his glasshouse containing perhaps thousands of seedlings and grafts with which he was working – a camellia lover's delight for many months of the year! In the late 1990's the garden was reduced to a more manageable size by a move to Thurgoona, just a little closer to Albury, but still with a delightful country outlook. If Tom could have favourites among all his plants they would probably be 'Valentine Day' and 'Nicky Crisp', although the cluster-flowered varieties were certainly held in very high regard.
Many growers in most countries in the world are growing plants that Tom originated from seed, some examples being 'Imperial Splendour', 'Celeste Olivia', 'Nicole', 'Thomas Walter Savige' and 'Sweet Olive'. His main interest in recent years turned to the development of the smaller multiflowered hybrids such as 'Bogong Snow', 'Wirlinga Princess', 'Wirlinga Rosette', 'Wirlinga Cascade', 'Wirlinga Bride'. 'Wirlinga Jewel' and numerous others. Tom was always only to willing to share his seeds, seedlings and encouragement with other growers and potential growers.
Tom's clear and logical thinking made him an ideal in assisting Professor E G Waterhouse with his work in clarifying the naming and origins of camellias, many which were known by different names in different countries. With the death of the Professor in 1977, Tom continued with the many years of arduous work necessary to produce The International Camellia Register. This was done in his spare time until 1982 when he retired as manager of Battenfeld Engineering, Albury. The culmination of this work was published in 1993 – a large 2 volume set which lists and describes over 32,000 known cultivars and 267 species of the genus Camellia. His research took him to many parts of the world where camellias are grown and where they grow as native plants. During his study of the Oriental cultivars he gained a considerable knowledge of Chinese and Kanji characters, their meanings and associated myths and legends.  supplement to The Register was published 1997, containing many additional cultivars and some corrections to the original volumes. Tom will always be remembered for his tremendous effort over many years in bringing order to camellia nomenclature!
Tom Savige was a member of every known national camellia society, his involvement being reflected by the positions he has held and by the many honours bestowed on him, some of which are listed below.
1962 Foundation member and Director of the International Camellia Society
1962 Author of 'Camellias in Australian Gardens'
1966 – 1969 President of the Australian Camellia Research Society, late to be appointed President Emeritus, a Patron and a Fellow. He has also been National Secretary and Editor of Camellia News.
1970 Awarded the E G Waterhouse Medal by the Australian Camellia Research Society
1972 Author of the text of 'The Camellia' (paintings by Peter Longhurst).
1974 Vice-President of the International Camellia Society
1976 – 1980 First President of the Hume Branch of the ACRS
1977 President of the International Camellia Society, late to become their Registrar.
1983 Made an Honorary Member of the Chinese Camellia Society.
1987 Awarded the Order of Australia Medal for services to horticulture.
1992 Awarded the Gold Veitch Memorial Medal by the Royal Horticultural Society.
1992 Certificate of Commendation from the American Camellia Society.
1993 Release of The International Camellia Registrar
1994 Awarded the degree of Master of Science (Agriculture) (Honoris Causa) by Sydney University for hs work on The Register.
1994 Elected a Fellow of The American Camellia Society
1997 Release of the supplement to The International Camellia Register.
For many years the NSW Camellia Research Society has annually presented the T. J. Savige Award, and in 1994 the Hume Branch of the ACRS commissioned the painting of 'Wirlinga Bride' for the 'Tom & Olive Savige Perpetual Trophy' for the best cut of cluster flowered miniature hybrid or species at the Albury Camellia Show. Tom contributed numerous articles to horticultural and camellia publications worldwide. He was an active member not only of Hume Branch but also of The Albury Horticultural Society and Friends of Albury Botanic Gardens. The Albury Botanic Gardens has planted a collection of camellia cultivars which originated in that region – most of the from Tom. It's no wonder that Olive referred to him as 'a professional amateur'.