by Ken Tate
(as presented at the Hobart Congress, September 2003)
A LITTLE GEOGRAPHY
Geographically, Melbourne, is in the far south, with only the state of Tasmania between us and Antarctica, 42% of which we lay claim to. If you crossed our north or north western coast by air, you still had many hours to pass before reaching Melbourne. If you came from the USA, you would have passed many hours over the Pacific Ocean and a few hours over our east coast. Our New Zealand visitors are friendly neighbours a couple of hours across the Tasman Sea.
School children used to be taught that the whole of Europe as far as Russia would fit within our borders. Yet our population of 20 million people is little more than the metropolitan population of Shanghai, and distributed over the eastern and southern parts. The camellia growing areas are in a coastal band on most of the eastern coast of Australia and the southern coast (and Tasmania) with occasional penetration of the interior such as Canberra, the national capital, Albury and Narrandera, and some regions with higher altitude such as the Central Tablelands of NSW and Mount Tamborine in Queensland.
 A LITTLE HISTORY
The history of European settlement dates from 1770, which is before the American Revolution, when Captain James Cook took possession of the continent on his way to observe the transit of the planet Venus. Prior to that date it is likely that Asian traders made landfall on the Australian coast. It had been occupied by Aborigines for many thousands of years. A Dutchman, Willem Jansz, discovered the west coast of the continent in 1606 and Abel Tasman, another Dutchman, discovered Tasmania and later helped chart the coastline of the Gulf of Carpentaria. Englishman William Dampier in 1686 had found the north-west coast unattractive for settlement, but Cook had landed on the more attractive and valuable parts and he charted the whole east coast of the 'the Great South Land'. It was the loss of the American colonies that caused English interest in Australia as a colony for convicts and resulted in settlement from 1788, starting from the aptly named Botany Bay, just south of what is now the great city of Sydney. Cook's botanist, Banks, after whom the Banksia is named, would not have had camellias on board, but only a few decades later, Australian settlers imported the first camellias. This was twenty or thirty years after the Pillnitz camellia was planted in Saxony.
 IMPORTATION OF THE FIRST CAMELLIAS TO AUSTRALIA
It was commonly thought that the first importation of camellia plants occurred in February 1831 when a shipment arrived for William Macarthur. These were 'Alba Plena', 'Anemoniflora', 'Camura' (Syn.'Incamata') 'Myrtifolia', 'Rubra', and 'Welbankiana'. They were planted at Camden Park, NSW. However it has been established that a consignment to Alexander Macleay of Sydney arrived somewhat earlier (in 1826) and were planted in Sydney at Elizabeth Bay House.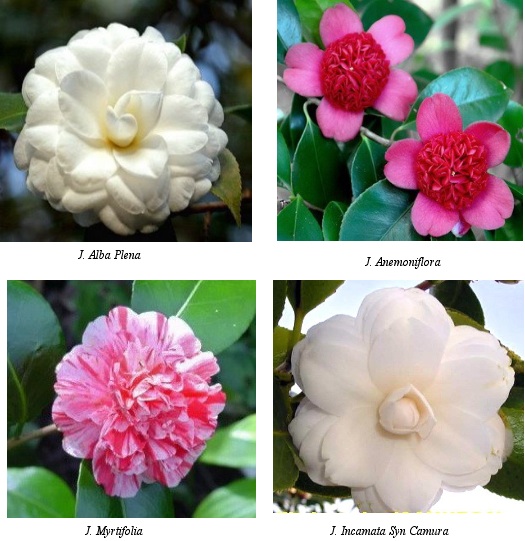 Macarthur (after whom 'Aspasia Macarthur' is named) is more notable as he started a nursery for disposal of plants he raised, and for many years was one of the main sources of supply to the colony of ornamental plants, as well as fruit trees and vines. On 6 January 1845, he wrote to C. Loddiges, a London nurseryman, acknowledging receipt of camellias and other plants and saying 'I have raised four or five hundred seedlings of camellia, chiefly from seeds produced by 'Anemoniflora'.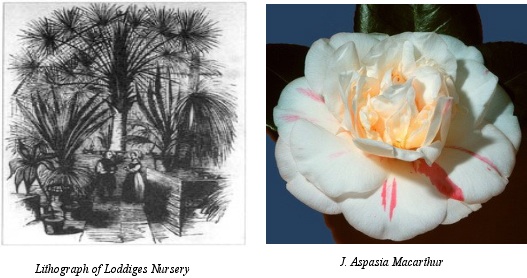 As this variety never has anthers of its own, I fertilised its blossoms with pollen of C. reticulata and Sp.maliflora'. Most of his seedlings have been lost to cultivation, but some are among the leading varieties. The main one is 'Aspasia Macarthur' and its sports 'Can Can', 'Lady Loch', 'Margaret Davis', 'Otahuhu Beauty', and 'Strawberry Blonde'.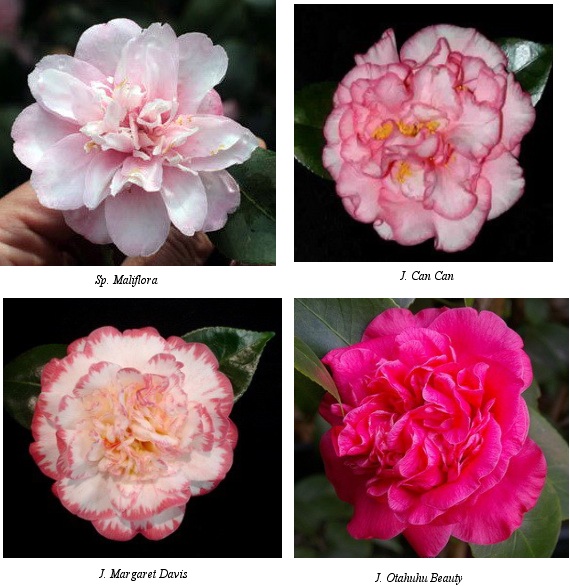 DECLINE AND FALL THEN RISE OF THE CAMELLIA
As in other parts of the world, Australia had a camellia boom in the in the middle of the I9th Century, but about the end of the 1880s the boom burst. In 1883, Shepherd & Co, the leading nursery of the time in Sydney, listed 160 varieties; in 1891 it had dropped to 53 and in 1916 to 16. Some nurseries listed none. About 1912 'The Czar' had come into existence in Melbourne and W.G. Hazlewood considered that it started the revival of camellias in Melbourne, and to a certain extent in Sydney as well. However, by 1950 a major expansion occurred with hybridisation between C.saluenensis, C.japonica, C reticulata, and C.sasanqua.
In the 1939 Journal of the Royal Horticultural Society, England, Dr H.H. Hu reported that there were several varieties of Camellia reticulata garden plants in Yunnan Province, China. After World War 2, Dr Lammerts saw the article, contacted Dr Hu, who then contacted Dr Yu at the Yunnan Botanical Institute and then Professor Tsai at the Institute. He replied in January 1948 that there were 20 varieties. Arrangements were made to have the full list of varieties forwarded, and they arrived in March 1948 at San Francisco.
At about the same time, Ralph Peer of California and Walter Hazlewood of NSW were independently arranging to import these reticulatas. Walter imported five, and Ralph the available 19. Between them they had 18 established by cleft grafting. With varying success, this was the start of a resurgence of interest in camellias in Australia.
GETTING ORGANISED
In 1951, suggestions were made for the formation of a camellia society. Camellias were becoming popular again, but the nomenclature (naming) of the varieties was in a sad state and the cultural requirements were not well understood. A good deal of research and investigative work was needed and the best method of attack was considered to be the creation of a specialised society. In July 1952, five members formed themselves into a provisional society to be known as the Australian and New Zealand Camellia Research Society (ANZCRS). The five members were Professor E. G. Waterhouse, Walter Hazlewood, A.W. Jessep, Dr C.R. Merrillees and Mr G Adams (from New Zealand). In 1953 a Constitution was prepared and the above five members constituted themselves the Council of the ANZCRS.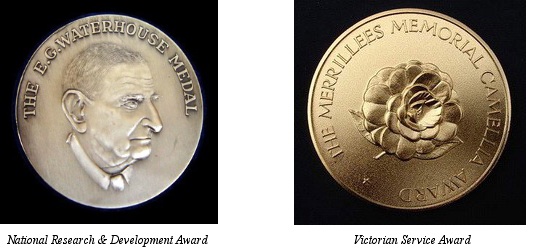 Membership grew from 5 to 50 in 1953. In 1954 the Council decided to publish a Camellia Annual which, although a modest issue, created much interest. It was later incorporated in the journal 'Camellia News'.
By the end of 1954 membership was 100, by the end of 1956 it reached 200 and by the end of 1958 it reached 320. During 1958, enthusiasm in New Zealand had grown to such an extent that they decided to form the New Zealand Camellia Society. Our society then became the Australian Camellia Research Society (ACRS) but both societies have worked harmoniously to mutual benefit.
AUSTRALIAN EXPANSION BY FORMING BRANCHES
The formation of a New South Wales group of camellia lovers was contemporaneous with the founding of the Society in 1953 and the local body came to be known as the Foundation Branch. By 1955 the Victorian members constituted a branch based in Melbourne. South Australian members formed a branch in 1958 and the Queensland Branch was formed in 1961. Overseas membership grew to 50. By July 1962 membership of the Australian Camellia Research Society had reached 1000. Owing to the vast size of Australia a federated structure of the society developed, just as the country has formed a federal political structure, despite the essential homogeneity of the population. But the fact is that Western Australia is a long way from Queensland and such states (and camellia society branches) often seek autonomy.
The camellia branches, sometimes several in a State, organise themselves individually, but they fund a national body, the National Council, to be responsible for national functions such as uniform registration of new varieties, bloom classification, judging rules, national awards, national shows, and national publications such as the journal 'Camellia News Australia'. The branches, now called affiliates, appoint National Councillors, pro rata to membership, and meet usually once a year to resolve national matters.
AFFILIATES BY STATE
Over the life of the society some affiliates have failed but at present there are eleven as follows: Information re contacting same can be sourced on the Camellias Australia Inc. Affiliates Page
New South Wales: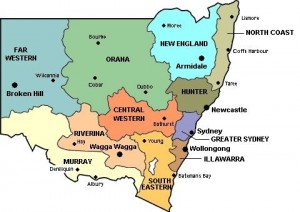 This state has the largest number of affiliates. The largest is the New South Wales Camellia Research Society, formerly the NSW Foundation Branch, which meets in the northern suburbs of Sydney. It dates from the foundation of the Australian Camellia Research Society and its most illustrious member was Professor Eben Gowrie Waterhouse, known affectionately as 'The Prof'. Professor Waterhouse made a major contribution to the establishment of the International Camellia Society (ICS). Its members have been strong supporters of the ICS (for example, Peter and Margaret Levick, Harry and Nancy Churchland, and Nance Swanson). Eric Craig organised many tours focusing on ICS congresses.
On the south side of Sydney is the St George and Sutherland Camellia Society, founded in 1967. Its members were drawn from a Camellia and Azalea Society that began in 1962. Notable members and hybridists were Bill Hooper, Jack Greentree, Alice Spragg, and Terry Pierson.
Both Sydney societies had input to the creation and development of the E.G. Waterhouse Gardens at Caringbah, and St George and Sutherland member Eric Utick was appointed Honorary Director. Interest in camellias in the Wollongong area started with the Legacy organisation in 1953 and by 1966, affiliation with the ACRS had been achieved through what is now Camellias Illawarra. This affiliate is noted for its Annual Shows with a high content of excellent C. reticulata blooms. Further south on the NSW coast at Nowra is the fourth affiliate, Camellias Shoalhaven, founded in 1983 with the sponsorship of the St George and Sutherland affiliate (then a Branch). The Hume Camellia Society is the only inland affiliate, meeting at Albury NSW, and drawing members from the Riverina district of NSW and northern Victoria. It was founded in December 1976 by such people as Tom Savige, who had moved to Wirlinga from Canterbury in Melbourne, Ross Hayter of Yackandandah, Harold Fraser of Wagga Wagga and Don Coe. (A Riverina Camellia Society had a fleeting existence between 1974 and 1975 when it became the Narrandera District Garden Club, but retaining an interest in camellias.)
Victoria: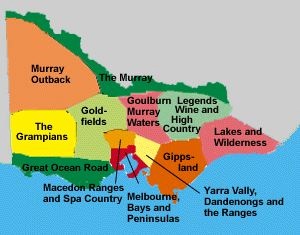 Camellias Victoria is located in Melbourne and is hosting this ICS Congress on behalf of Camellias Australia. It is the second largest and second oldest affiliate. One of the founders of the ANZCRS (then ACRS and now Camellias Australia) was A.W. (Alex) Jessep who was Director of the Royal Melbourne Botanic Gardens. Over 130 camellias had been planted there from 1875 to 1880. Cuttings from these plants were given to nurserymen and revival of the popularity of the camellia was under way by the late 1940s. As already mentioned, the seeds of a specialist camellia society were sown in the 1950s, and by 1955 a Victorian affiliate had been founded with Dr C.R. Merrillees as first Chairman. During the 1960s emphasis was placed on grafting and cleft grafting was found to be the most successful method for reticulatas, the seedlings of which were now available. Notable members who were awarded the E.G. Waterhouse Medal were Mr A.W. Jessep, Mr F. S. Tuckfield, Mr T. Savige, Mr and Mrs N. McMinn, Mr and Mrs E. Sebire, Dr R. Withers, Mr R. Garnett, and Mr J. Hunt. The recipients of the Merrillees Gold Medal, Walter Hazlewood Award and RHS awards are numerous.
Tasmania: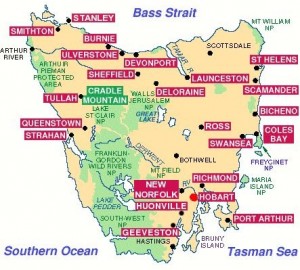 The Rev. Davies arrived in Tasmania in 1830 and later became Archdeacon of Hobart. He took a keen interest in the Launceston Horticultural Society and ordered various camellia plants from Camden Park, New South Wales. The first arrival was two white formal doubles.
In 1846 he was sent 44 camellias direct from China. Other consignments followed in 1847, 1848, and 1849, making a grand total of 354. The first record of ACRS members was in 1965 and a Branch (Affiliate) was established in 1975 with Professor John Elliott as President. Mrs Judy Lewis has been a member for the whole of that time.
South Australia:
Two affiliates meet in Adelaide (Adelaide Plains and Adelaide Hills). The original Branch
was founded in 1958 by Dr John Pedler and Mrs Suzanne Hall. The proclamation of South Australia occurred on 28 December, 1836 and by 1841 John Bailey commenced operating a nursery containing camellias and other plants. His 3 May 1845 catalogue mentions 'Alba Plena'.
Also in 1841 Charles Giles and Son were setting up the Grove Hill Nursery growing camellias in the Mt Lofty Ranges, while George Stevenson started a new garden, commonly known as Stevensons', though named Leawood. When the property was affected by freeway development, some very old camellias were moved to Stangate Garden and Stirling Council in the Mt Lofty ranges. In the 1850s Charles Frederick Neumann started the Model Nursery, but after a storm in 1913, his son Frederick Christoff Newman and his wife established a nursery at Tea Tree Gully, becoming the main specialist camellia nursery in South Australia.
Western Australia:
This very large state has only one affiliate, meeting in the capital, Perth. A member Wilson and Johns Pty Ltd was listed as early as 1954 but a Branch (Affiliate) was founded in March 1974. Charles A. Newman was Foundation President. Within a year membership was 100.
.
Queensland:              *** see footnote by Queensland Camellia Soc. Inc
The Queensland Camellia Society was originally founded as an ACRS Branch in 1960 with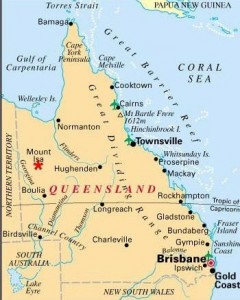 a membership of 32 and is now an autonomous society with only limited collaboration with Camellias Australia. It ceased to be a branch in 1971, and was re-formed as the Camellia and Azalea Society with founding members including Norma Noack, Byron Watkins and Ian Eldershaw. Climatic conditions allow growth of camellias from the Atherton Tableland in north Queensland to the New South Wales border. Camellias were introduced in the mid-Nineteenth Century, the earliest at Ormiston House, Cleveland in the Redland Bay area. Camellias were planted in the Brisbane Botanic Gardens but were lost in the 1890 flood. C. sinensis was planted at Bingil Bay in 1884. Nerada Tea Plantation has over 1000 acres of C. sinensis in the Nerada Valley in the foothills of the Atherton Tableland. Len and Shirley Norup have a collection of over 400 camellias in Brisbane and Lyn and John Stotschek have over 1000 on a property at Mount Tamborine.
REGISTRATION OF CAMELLIA CULTIVARS
Australia has had a rigorous system of registration of new varieties. Criteria are set by Camellias Australia. Affiliates each have registration committees, and a National Registrar is appointed to regulate the system. Successful applications are publicised in the national journal, and in the Nomenclature Book of the Southern California Camellia Society. Indeed it was this Australian concern for correct nomenclature that prompted the foundation of the Australian society, and led to the Australian collaboration with, and participation in, the International Camellia Society. It was driven by the interest and standing of Professor E. G. Waterhouse, and Mr Tom Savige. Collaboration with international experts in the US, UK, Italy, Japan and China resulted in publication of the International Register of Camellias, a two volume compilation of information relating to over 30,000 varieties, in 1993. By 2005 Australia had registered 569 new varieties, many of which feature in the show results of other countries such as the USA ('Margaret Davis', 'E.G. Waterhouse', 'Lady Pamela', 'John Hunt' and 'Sweet Jane').
SPECIALIST CAMELLIA NURSERIES
Most states have had specialist nurseries, wholesale and/or retail. Three of the oldest trading firms are *Camellia Lodge (the McMinn family in Melbourne, Victoria), Camellia Grove, founded by Professor Waterhouse in Sydney, New South Wales, and Newman's in Adelaide, South Australia. More recent ones are Rhodo-Glen (Andrew Raper) and Camellia Range (Keith Smith) in Melbourne, Wayne's in New South Wales and *Paradise Plants (Bob Cherry), a wholesale supplier at Kulnura, New South Wales. (*no longer trading)
HYBRIDISERS
Noted hybridisers or originators include William Macarthur, Professor Waterhouse, Tom Savige, Alice Spragg, Bob Cherry, Don Coe, Terry Pierson and Bill Hooper, in New South Wales, Royal Botanic Gardens Melbourne (Alex Jessep), F.S. Tuckfield, Edgar Sebire, Bob Withers, Neville McMinn, Ray Garnett and John Hunt in Victoria, Roger Hall and Max Schultz in South Australia, and Keith Abbott in Western Australia. (Refer to sub-sets re hybridisers on website)
CAMELLIA RESEARCH
It was a research aim to correct camellia naming and classification (taxonomy) that enthused the founders of the ANZCRS.
Hybridising, identification of diseases and appropriate treatment, and plant hunting are research tasks so it was legitimate to have the word 'research' in the name of the society.
Some people have thought that this impeded recruitment of people who simply loved the flower, or displayed whatever blooms came into a catalogue, regardless of their breeding. I do not agree, as there are many reasons for variation in public interest, mostly social or lifestyle issues. By the 21st century, many competing activities are taking up the disposable time of the younger generations and families: television, the intemet, DVDs and sports. Gardening programs are common and instant information can be 'googled' by the modern gardener.
Perhaps we are too slow to harness these information media for the benefit of our societies. We need more websites, internet chat-rooms and DVDs to publicise the camellia and encourage fanciers for look for the real thing, get out in the garden, and join with like-minded people in social groups.
There are research avenues to explore: for example, Australia is free of camellia flower blight, but what will we be ready to do if it reaches our country? We in Australia are running out of hybridisers. We need more people to do DNA analysis of the species and cultivars, and we need to expand the spectrum of colours.
BOTANIC GARDENS
Botanic Gardens in the capital cities, and some provincial cities, e.g. Wagga Wagga in NSW, have collections of camellias. The Royal Botanic Gardens Melbourne has a special importance as an ICS Garden of Excellence and the holder of the National Camellia Collection. This was recently supplemented by a bequest of 300 plants by the Late Dr R.M. Withers. The Mount Lofty Botanic Garden in South Australia also has an important collection.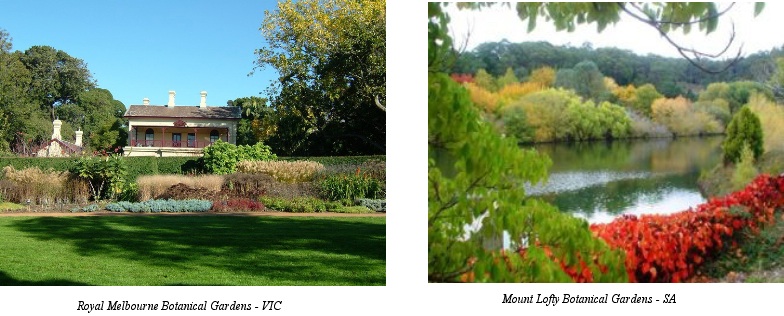 OTHER PUBLIC/PRIVATE GARDENS
Most affiliates have supported public or private gardens, some of which are of historic or heritage interest. An example is Eryldene in the Sydney suburb of Gordon which is the former home and garden of Professor E.G. Waterhouse. In Queensland, the Ormiston House garden was developed by a Restoration Association set up in 1967.
In Adelaide, various projects for a garden culminated in 1977 when Stangate House in Aldgate, with an old English-style garden, and now owned by the National Trust, became available for a camellia garden development. More recently a camellia garden has been developed at Araluen in Western Australia.

PUBLICATIONS
Australia has published a range of camellia books, some of which have had mainly local interest, but the author who made the major contribution to international literature was the Late Stirling Macoboy whose book 'What Camellia is That', was published in 1997. It is important also to acknowledge the noted flower painter Paul Jones whose superb images illuminated many camellia books, and especially the Australian journal 'Camellia News'.
ACKNOWLEDGEMENTS
Thanks are due to the following people who provided material for this review: Bob Hooper, Erica McMinn, Shirley Shallcross, Rebecca Curson, Barry Di Salvia, Marj Mansfield, Rachel O'Conor, Kevin Reiman, Alan McGovern, June McLeod and Lorraine Fraser.
***
The Queensland Camellia Society Inc re-joined Camellias Australia in 2014, and now again benefits from membership in the national body.